This book is a biography about Dr. William Stewart Halsted, however, it also gives you some interesting information about other doctors such as William Osler, Harvey Cushing, and William Henry Welsh who were also pioneers of medicine. It is also a history of surgery in America.
In the Prologue, thirty year old Halsted performs "the first known operation to remove gallstones". The patient on the kitchen table was his own mother. A year before, he had performed "the first emergency blood transfusion", pumping his own blood into his "ghastly white, quite pulseless and almost unconscious" sister.
Dr. Halsted's life was fascinating and complex. He was an unusual kind of person. He is perhaps one of the most important surgeons from America. He devised revolutionary medical innovations. Before Halsted, poorly-trained doctors performed surgery without anesthesia in unsanitary conditions and patients were rarely expected to survive.
Halsted changed the medical practice by inventing local and spinal anesthesia, introduced the use of rubber gloves during surgery, pioneered the use of silk thread for sutures, developed techniques to stabilize blood pressure during surgery, invented radical mastectomy for breast cancer, blood transfusion, and surgical cures for hernia. He also introduced the residency program which was adhered to by many other medical institutions besides Johns Hopkins. Many of these practices are still adhered to today.
Dr. Halsted became addicted to cocaine early in his career while trying to find a drug to administer to patients for use as a local anesthetic. Treatment for cocaine at the time involved substituting morphine for cocaine. He spent 40 years of his life addicted to both drugs.
His career was almost ruined by his addiction but with the help of his colleagues at the hospital who believed in his brilliance, he was able to continue his career at Johns Hopkins, where he became the first chief of surgery. This is where he changed surgery to a lifesaving art.
I found this biography very interesting and found it hard to put down. It astounds me how these pioneers have the foresight of finding ways to improve and change the way that things are done. Who was the first patient to have a blood transfusion? How did the doctor figure out that he could find a way to alleviate pain through a drug? Thank goodness we have these brilliant people who persevere through failures and hardships to make the world better for all. If you are interested in medicine, you will like reading this book. This was a choice of my book group. I think that everyone found it interesting and a good choice!
Since it is "Paris in July" month, I wanted to find a surgeon who was from France. So, I found Pierre-Joseph Desault. It seems that he became a leading surgeon in France during his time. He also introduced many improvements in the practice of surgery. You can read more about him below. Also, Baron Dominique-Jean Larrey was a French military surgeon who is credited with introducing many of the methods of modern military field medicine. Read more about him below.




Pierre-Joseph Desault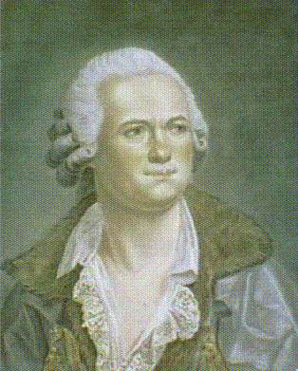 Born: 6-Feb-1738
Birthplace: Magny-Vernois, France
Died: 1-Jun-1795
Location of death: Paris, France
Cause of death: Pneumonia
Gender: Male
Religion: Roman Catholic
Race or Ethnicity: White
Occupation: Doctor
Nationality: France
Executive summary: Surgeon at Hôtel Dieu
French anatomist and surgeon, was born at Magny-Vernois (Haute Saône) on the 6th of February 1744. He was destined for the church, but his own inclination was towards the study of medicine; and, after learning something from the barber-surgeon of his native village, he was settled as an apprentice in the military hospital of Belfort, where he acquired some knowledge of anatomy and military surgery. Going to Paris when about twenty years of age, he opened a school of anatomy in the winter of 1766, the success of which excited the jealousy of the established teachers and professors, who endeavored to make him give up his lectures. In 1776 he was admitted a member of the corporation of surgeons; and in 1782 he was appointed surgeon-major to the hospital De la Charité. Within a few years he was recognized as one of the leading surgeons of France. The clinical school of surgery which he instituted at the Hôtel Dieu attracted great numbers of students, not only from every part of France but also from other countries; and he frequently had an audience of about 600. He introduced many improvements into the practice of surgery, as well as into the construction of various surgical instruments. In 1791 he established a Journal de chirurgerie, edited by his pupils, which was a record of the most interesting cases that had occurred in his clinical school, with the remarks which he had made upon them in the course of his lectures. But in the midst of his labors he became obnoxious to some of the revolutionists, and he was, on some frivolous charge, denounced to the popular sections. After being twice examined, he was seized on the 28th of May 1793, while delivering a lecture, carried away from his theater, and committed to prison in the Luxembourg. In three days, however, he was liberated, and permitted to resume his functions. He died in Paris on the 1st of June 1795, the story that his death was caused by poison being disproved by the autopsy carried out by his pupil, Marie-François-Xavier Bichat. A pension was settled on his widow by the republic. Together with François Chopart (1743-1795) he published a Traité des maladies chirurgicales (1779), and Bichat published a digest of his surgical doctrines in Oeuvres chirurgicales de Desault (1798-99).

From NNDB.


Baron Dominique-Jean Larrey
1766-1842
French Surgeon
Dominique-Jean Larrey was a French
military
surgeon who served during the French Revolution and during the reign of Napoleon. He is credited with introducing many of the methods of
modern
military field medicine, including field
hospitals
, ambulances, and triage on the battlefield.
Larrey was born at Baudean, Hautes-Pyrenees, France, in 1766. His parents were very poor, so the local priest took pity on Dominique-Jean and sent him to school. When he was 13 his father died, and Larrey was sent to Toulouse to live with his uncle, Dr. Oscar Larrey, a noted surgeon. At 21, Larrey moved to Paris and joined the French Navy. Five
years
later he joined the army and served in northern France as a field surgeon during the French Revolution.
Larrey saw almost immediately that there was a need for rapid evacuation of wounded soldiers from the battlefield, and he designed two types of what he called "flying ambulances." One kind was a small, two-wheeled carriage drawn by two horses that could carry two casualties. It had a folding door and a removable floor covered with a
mattress
. On the sides of the carriage were pockets that held medical instruments and supplies. The second kind of ambulance was a four-wheeled carriage drawn by four horses that could carry four casualties. It had springs in the body to absorb some of the shock and make the ride more comfortable for the wounded.
Larrey also established new surgical guidelines for treating wounded in the field. At that time, soldiers who required an amputation were left alone until the battle was over and they could be attended to. Larrey noticed, however, that delaying amputation was worse for the wounded, as they had more
pain
, bled more, and died more often from their wounds. His new guidelines dictated immediate amputation in cases of shattered limbs or joints, broken small bones or nerves, or major muscle or artery loss. He also changed the way that wounds were cleaned on the battlefield—only water was to be used, and the wounds were dressed with adhesive bandages that let them
drain
. These measures reduced the number of serious infections and deaths among wounded soldiers. Larrey also improved his own surgical skill during this time. It was said that he could amputate a leg in one minute and an arm in 17 seconds.
In 1795 Larrey was assigned to the forces of Napoleon Bonaparte (1796-1821). Napoleon was a great supporter of Larrey's surgical methods, and encouraged him to refine his ideas even further. During this time, Larrey perfected the
organization of
the flying ambulance corps. He placed them as close to the front line of battle as possible, and their first job was to transport the wounded from the battlefield to the
hospital
, without regard for rank. The idea that the most seriously injured man would be helped first, no matter what his rank or distinction, was a novel concept. Larrey also established the first field hospitals staffed by surgeons who could perform more delicate operations.
In 1797 Napoleon was sent to Egypt to open a land route to India, and he took Larrey with him. In Egypt, Larrey adapted the flying ambulance for desert warfare by replacing the horsedrawn carriage with camels, which carried
medical supplies
and litters for transporting wounded.
When Larrey returned to France, Napoleon had established a new
government
, with himself as leader. He appointed Larrey Surgeon General to the Imperial
Guard
of France. Larrey remained with Napoleon throughout his reign as Emperor, and was himself wounded twice—at Austerlitz and Waterloo. After Napoleon's defeat at Waterloo, Larrey was captured by Prussian troops, but his life was spared by the Prussian commander. Larrey, who was known for treating enemy wounded as well, had saved the life of the commander's son during an earlier battle.
Larrey returned to France and settled down to teach in the military hospital and to write. He died in 1842 at the age of 76, shortly after returning from a tour of French military hospitals in northern Africa.
From Bookrags.
Until next time, keep curling up with a good book......