Young adult fiction is not just for young adults anymore
Journal Star article by Micah Mertes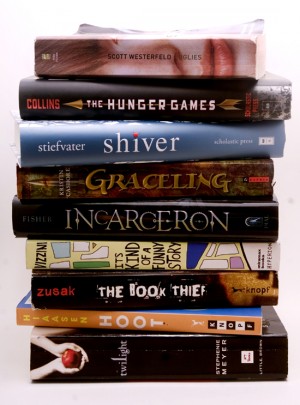 Fortysomething Molly Nance reads as many young adult novels as her 15-year-old daughter, Audrey. Maybe more.
When Molly's looking for something to read, she'll go to Audrey's room and plunder her book supply. "I tend to enjoy the books she's reading more than I do the stuff I'm reading in my book club," she said.
Occasionally, Molly's the one introducing Audrey to a YA series. Like Suzanne Collins' "The Hunger Games," a series intended for teens but still wildly popular among readers way past puberty.
Nance reads for pleasure, and YA books deliver.
Young adult fiction is not just for young adults anymore.
More than ever, older readers are perusing the YA sections of bookstores and libraries. And with no ulterior motive. They're being reeled into a lit subcategory that was never intended for them for a pretty basic reason: YA books are just really fun to read. Tight, fast-paced stories, boasting the kind of grand derring-do often absent from the high-brow stuff.
Collins' dystopian "Hunger Games" trilogy, Rick Riordan's "Percy Jackson and the Olympians," Markus Zusak's historical fiction "The Book Thief" and, of course, Stephenie Meyer's "Twilight" series.
"One thing I love about young adult fiction," Nance said, "it just hooks you from page one. You don't have to slog through three chapters to figure out who the characters are and how they relate. You open the book, and the action's happening."
YA cuts to the heart of the story. Fewer digressions, allusions, meta-literary naval-gazing. Just a story with characters you care about.
YA's spike in older readers can be seen in the sales figures. Whereas adult hardcover sales were down 17.8 percent in 2009 from the year before, children's/YA hardcovers were up 30.7 percent, according to the Association of American Publishers.
Publishers are cranking out hundreds of new titles a year with the hope of discovering the next "Twilight" or "Percy Jackson."
How did this happen? What changed?
YA's been around for a long time, after all, even if it wasn't always called "YA." Not just "Nancy Drew" and "Hardy Boys" but also more serious fare like "To Kill a Mockingbird" and "A Wrinkle in Time."
But something sparked a YA golden age.
It's actually pretty obvious when you think about it. Most credit's due to the boy wizard.
"'Harry Potter' and 'Twilight,'" said Chloe Neill, an Omaha writer of both YA and adult fiction. "Both series have brought sci-fi/fantasy to mainstream readers. (They've) given average adults permission to enjoy books that capture the magic of 'magic.'"
With the seven "Potter" books, J.K. Rowling forever changed reading habits. More than 400 million copies sold, and not all of them to little kids. The "Twilight" series has sold more than 100 million copies of its four installments.
Past YA series sold well, too. But the per-book bank is relatively modest. The Nancy Drew books sold 200 million copies, but those sales are spread out over 175 installments. Hardy Boys sold 50 million copies, but over the course of 58 installments.
There was something different about "Potter" and "Twilight."
"Reading about Harry and Hermione and Bella and Edward lets adults jump into another world," Neill said. "Both series remind adults what it feels like to be surprised by the world.
"I think people love that kind of escape."
The series left adults wanting only more of it. The rise in YA readership can largely be attributed to this common pursuit of escapism.
No New Yorker magazine celebration of the mundane in YA. But plenty of dragons, vampires and angsty, undying love. The same stuff that sells movie tickets.
To be fair, it's not that YA writing is necessarily any less good or sophisticated than adult fiction (works like "The Giver" and "Book Thief" have as much literary clout as anything shortlisted for the Man Booker).
"Young adult books still have a lot of the complexity of an adult novel," said Aja Martin, who works at Indigo Bridge Books and runs a YA book club. "There's this middle ground with some books," which holds appeal for a wide swath of age groups.
Vicki Wood, youth services director for Lincoln Libraries, said librarians at different branches have noticed more adults checking out YA books. And, yes, the trend really got rolling with the "Harry Potter" books and was cemented with the "Twilight" series.
"I think maybe people were embarrassed to check them out at first," Wood said. "But young adult literature doesn't have the reputation it used to."
I know that I have totally enjoyed the Young Adult genre books that I have been reading this month. I intend to look into reading many more this year. My book group actually read "The Book Thief" and count it as one of our favorite books that we have read in the seven years that we have been meeting.
Until next time, keep curling up with a good book...