Cozy Mystery Information
- The following information can be found in its' entirety at the Cozy Mystery Information link.
Getting Cozy with Crime
Cozy mysteries are books in which a crime occurs, but do not include explicit sex or violence. These mysteries usually take place in a small town or community, and are centered on the characters and the crimes they are trying to solve
Most of the Classic Mysteries like Agatha Christie's are "Cozies," as are most of the Animal and Culinary Mysteries.
Spanish Dagger - Susan Wittig Albert
Call Number: MYS/ALB
Between the herb shop, the catering business, and a weekend paper-making class, China Bayles has her work cut out for her. And now China's half-brother is opening up old wounds, trying to investigate their father's supposedly accidental death.
Aunt Dimity, Detective - Nancy Atherton
Call Number: MYS/ATH
When murder comes to Lori Shepherd's village for the first time in over a century, she agrees to investigate, despite her own hectic life as a mother of twins.
There Goes the Bride - M.C. Beaton
Call Number: MYS/BEA
Agatha Raisin cannot get her mind off her ex-husband James Lacey, especially when his young bride is killed right before saying "I do" and Agatha becomes the prime suspect.
Chamomile Mourning - Laura Childs
Call Number: MYS/CHI
Upset when the Poet's Tea event is forced indoors by rain, Theodosia Browning finds her life complicated when a local auction house owner plummets to his death from a balcony.
The Alpine Traitor - Mary Daheim
Call Number: MYS/DAH
When Alpine's newspaper, "The Advocate," narrowly escapes a potential hostile takeover, Emma Lord finds herself on the top of the suspect list when the person behind the bid turns up dead.
Death by Cashmere - Sally Goldenbaum
Call Number: MYS/GOL
When her unpopular upstairs tenant turns up drowned in the harbor, Isabel "Izzy" Chambers, owner of a knitting shop, and her friends the Seaside Knitters, investigate the suspicious death.
Ringing in Murder - Kate Kingsbury
Call Number: MYS/KIN
While preparing for a festive holiday celebration at the Pennyfoot Hotel and her friend's upcoming wedding, Cecily Sinclair Baxter must turn sleuth when a mysterious fire breaks out in a upstairs room, killing two guests.
Cereal Killer - G.A. McKevett
Call Number: MYS/MCK
Full-figured fashionista and private eye Savannah Reid must catch a killer who is preying upon plus-sized models, all of whom had been working for a secretly struggling cereal empire.
The Body in the Moonlight - Katherine Hall Page
Call Number: MYS/PAG
Minister's wife, caterer, and amateur sleuth Faith Fairchild investigates a mysterious death at a church fundraiser when a young woman drops dead after eating a dessert prepared by Faith.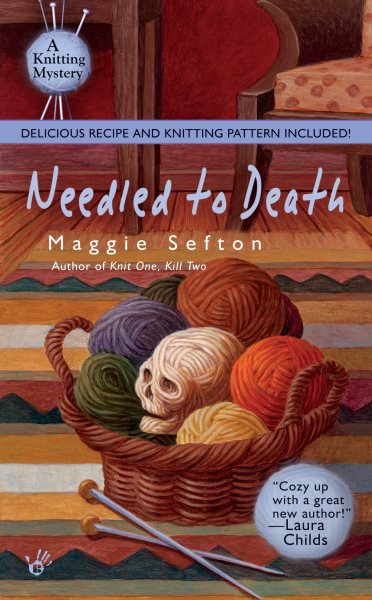 Needled to Death - Maggie Sefton
Call Number: MYS/SEF
When Kelly Flynn takes a group of tourists to visit Vickie Claymore's alpaca farm, she is greeted by a dead body and must unravel the truth in order to bring a clever killer to justice.
Dead Giveaway - Leann Sweeney
Call Number: MYS/SWE
Hired to locate the birth family of Will Knight, a college athlete, Texas heiress and PI Abby Rose finds her investigation taking a deadly turn when the woman who found Will years ago is murdered.
Whiskey and Tonic - Nina Wright
Call Number: MYS/WRI
Part-time sleuth Whiskey Mattimore investigates the curse of the Miss Blossom pageant as the newly crowned winner winds up in the hospital and the former Miss Blossom ends up dead.
Some great Cozy Mystery Sites to visit:
http://www.cozy-mystery.com/Definition-of-a-Cozy-Mystery.html
http://www.mystery-cozy.com/Mystery-Cozy.com.html